Qualer Search
About This
Company
TMI is accredited by ANSI-ASQ National Accreditation Board in accordance with the recognized International Standards ISO/IEC 17025:2017, ANSI/NCSL Z540-1-1994, ANSI/NCSL Z540.3-2006 and all other program requirements in the field of calibration. Our accreditation meets the requirements of ISO 9001:2015. For more detailed information, please contact our Quality Department. On-site calibration and repair is a very important part of our service and represents over half of our business. Our on-site services include full time resident services in which we manage and run your calibration and/or power tool repair lab. We also provide free pickup and delivery in the vicinity of our laboratories
Melbourne, FL, 32934
ANAB : AC-2080.08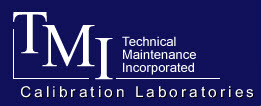 Technical Maintenance, Inc.
ACCREDITATION(S):
ANAB : AC-2080.08
Hours : M-F 08:00 – 17:30
Street Address : 3060 Venture Lane
City, State, Postal Code : Melbourne, FL, 32934
Qualer
Qualer is everything you need to manage your entire asset management and service process. Formalize and automate maintenance processes and prove ROI through an ecosystem that brings your vendors, assets, and service records together.