Qualer Search
About This
Company
Radian Research, Inc. is a recognized world leader of Energy Reference Standards, Energy Meter Testing Systems, Current Transformer Testers, Meter Test Boards, DC to AC Transfer Standards, and Automated Laboratory Energy Reference Systems. Radian provides both portable and primary energy reference standards that are absolutely unequaled in accuracy, stability and reliability. Radian customers typically consist of electric utility companies, energy meter manufacturers, energy meter test system manufacturers and national metrology institutes located throughout the world. Radian Energy Reference Standards and Test Equipment supports the needs of ANSI C12.20, IEC 62052 and IEC 62053 standards.
Lafayette, IN, 47905
A2LA : 3784.01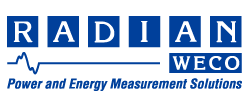 ACCREDITATION(S):
A2LA : 3784.01
Hours : M-F 08:00 – 17:30
Street Address : 3852 Fortune Drive
City, State, Postal Code : Lafayette, IN, 47905
Qualer
Qualer is everything you need to manage your entire asset management and service process. Formalize and automate maintenance processes and prove ROI through an ecosystem that brings your vendors, assets, and service records together.