Qualer Search
About This
Company
Microscoptics specializes in microscope sales service and consultation. We learned over ten years ago that it is critical that there be an accredited service provider in Michigan in the Optical Microscopy field. As an ACLASS accredited provider of microscope calibration services, Microscoptics is recognized foremost for their quality. All standards used in calibration are NIST (National Institute of Standards and Technology) traceable. We began our company with the belief that all we do should exemplify the quality we want from others. We strive to listen to and give our customers the service they need to make them successful.
Holly, MI, 48442
ANAB : AC-1218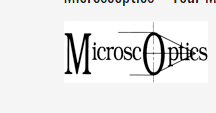 ACCREDITATION(S):
ANAB : AC-1218
Hours : M-F 08:00 – 17:30
Street Address : 8960 Buckhorn Lake Road
City, State, Postal Code : Holly, MI, 48442
Qualer
Qualer is everything you need to manage your entire asset management and service process. Formalize and automate maintenance processes and prove ROI through an ecosystem that brings your vendors, assets, and service records together.